Book Review: A Million Suns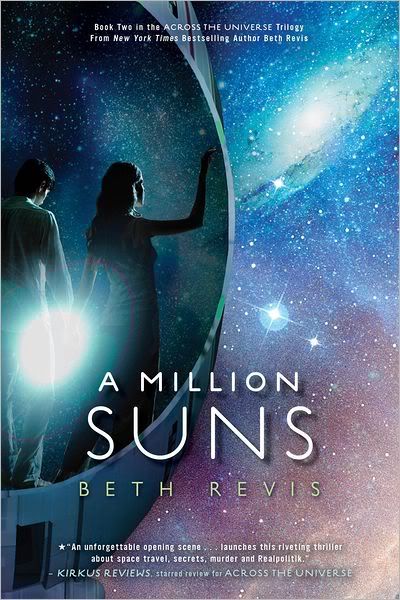 Book: A Million Suns
Author: Beth Revis
Synopsis: This is the second book in the soon to be trilogy written by Beth Revis. The first book is called Across the Universe and it was AMAZING! I loved it so I was incredibly excited to read this book and boy did it deliver. So currently Amy and Elder are still aboard Godspeed and some time has passed since the events that we left from in the first book but not much has changed. Godspeed is the ship that was developed on Earth and destined to take all these specially chosen people to a new planet called Centauri-Earth. In the last book Amy woke up from being cryogenically frozen early, and that is when things started to get weird aboard Godspeed.  Since the last book however the situation is getting much more dire as events and clues start to unravel and Amy has to figure them out before it's too late. Amy is still struggling to figure out her feelings about Elder, her parents, and dealing with the fact that she may never get off this ship. The inhabitants of Godspeed are also become more aware of the situation and bad things are starting to happen. Elder is trying to deal with his role now aboard the Godspeed and is struggling to figure out his plan of attack, all the while dealing with his own emotions.
My First Impressions: Well I was extremely excited when I picked up this book and it didn't fail to disappoint. When I read the first book there was a claustrophobic feeling I got and the second book was just the same. Beth Revis really made me feel like I was on the ship. There were so many twists and turns right from the get go and the story reeled me in again. I fell back in love with many characters and despised others. The book was of course the 2nd in a trilogy so it kept that whole feeling of urgency, all the while you know that everything will not be solved by the time this book is over.
Characters: I loved Amy and Elder in the first book and I loved them again in this one as well. The beauty I found in Beth Revis' writing is that she doesn't hid the flaws of her characters, they really do make up how her characters act and she has developed them extremely well. I found I sympathized a lot with Amy and I could really understand where she was coming from during her situations. Even the secondary characters threw me for some loops. The background stories for the secondary and even tertiary characters really helped with the plot twists and turns.
One thing I really noticed was that, especially with the story line, the reasons behind the actions of every character was extremely well thought out and had to be so that the story line could progress. Elder was such a teenage boy that it made me laugh sometimes, but I loved watching his character evolve into the man he needed to be.
Plot: This plot played with all my logic and all the theories I had made about what was going on and how the story would end up. When you think you know something, watch out because you really don't. The whole concept and plot of the trilogy is so new and fresh. I haven't read any books like this before so I really enjoyed a new type of story to read. I'm not usually a huge outer space/sci-fi story kind of reader so I was really surprised by how much I enjoyed this book. The whole concept of being trapped on a spaceship holding other people who have never known what it is like to live on Earth without your family is incredibly emotional and you can't help but become attached to the main character as she goes through trying to adjust and fit in to life aboard the Godspeed, let alone all the other challenges that are thrown her way. Beth has obviously a well thought out plot arc and I cannot wait to see what happens next.
What I Loved: I loved the whole feeling the book gave me whole I read it. When books can draw you in like that and make you feel as though you are where the main characters are and going through what they are, that is when you know the author wrote something great. There were times I had to close the book for a moment just to catch my breath.
I loved the whole schematic of the Godspeed and how the author has described it so perfectly, not to mention the helpful diagram she provides inside the cover of the first book and on her website.I really enjoyed the characters and am pretty sure I feel in love with Elder a few times.
The twists and turns that the book had inside were amazing. After reading the first book I had no idea how she could drag it out to be a trilogy. I felt, like Amy did, trapped in the circumstances of what was going on, on Godspeed. However, Beth Revis managed to turn everything around and leave me sitting, holding my book, constantly muttering "Oh my gosh" over and over.
Also, the cover is so pretty. (I know, I know, never judge a book by its cover. But this cover is amazing)
Overall Review: LOVE LOVE LOVED this book. I would give this book 5 out of 5 stars.
I highly recommend this series to anyone who likes science fiction books or even that aren't even into science fiction. It's more along the lines of soft science fiction. If you love dystopian novels and need to mix it up a little or if you like romance you should definitely check out this series.
Check it out!!!
-TGWR
---